Management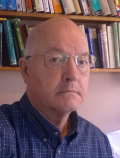 Hector McNeill
The GBF is managed by the Director, Hector McNeill. He is a graduate in agriculture, an agricultural economist and systems engineer.
He has worked in the domain of decision analysis applied to agriculture and natural resources for over 45 years. He has also been involved in logic design and the application of digital systems including the design of ASICS and systems engineering development of pattern recognition systems. He was a researcher in natural resources remote sensing applications with the NASA-CNAE Program (National Research Council) and at the FAO Plant Production Division he was the team leader of the FAO-ICO project producing the world's first operational digital crop inventory and forecasting system for coffee in Brazil.
He founded SEEL (Systems Engineering Economics Lab) in 1983 and initiated the development of Locational-State Theory in 1985. Locational-state theory provides the basis of identifying "complete datasets" that include factors that determine variance. This is important for any applications involving renewable natural resources, agriculture, fisheries, biodiversity and sustainability.
During the last 10 years he has been increasingly involved in the development of online analytical tools used to improve the quality of information used in project design. He has overseen the development of SDGToolkit a library of analytical tools for improving the desgn of projects addressing Agenda 2030 and Sustainable Development Goals.
Hector McNeill can be contacted by email at:
hector.mcneill@boolean.org.uk