Management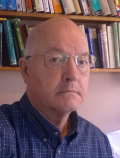 Hector McNeill
The GBF is managed by the Foundation President. This role combines day to day management of GBF activities as well as chairing ad hoc and ongoing GBF work groups and workshops.
The President of the GBF is Hector McNeill. He is a graduate of Cambridge University in England with post-graduations from Cambridge University and Stanford University, Palo Alto, California in the USA.
He has been involved in logic design and the application of digital systems including the design of ASICS and systems engineering development of pattern recognition systems. He was a researcher in natural resources remote sensing applications with the NASA-CNAE Program (National Research Council) and team leader of the FAO-ICO project producing the world's first operational digital crop inventory and forecasting system. He is the leading developer of the real incomes approach to economics which has involved the development of Structural Production Function-based computer simulation and decision analysis systems.
He founded SEEL (Systems Engineering Economics Lab) in 1983 and initiated the development of Locational-State Theory in 1985. Since 1999 he has worked on onlne decision analysis systems and Virtual Client Technology.
In a voluntary capacity he is the Secretary General of the European Committee on Romani Emancipation.
Hector McNeill can be contacted by email at:
hector.mcneill@boolean.org.uk